MG-3 Air Bearing With Vacuum Hold Down Turntable
Written by Ada Lin
Thursday, 22 January 2009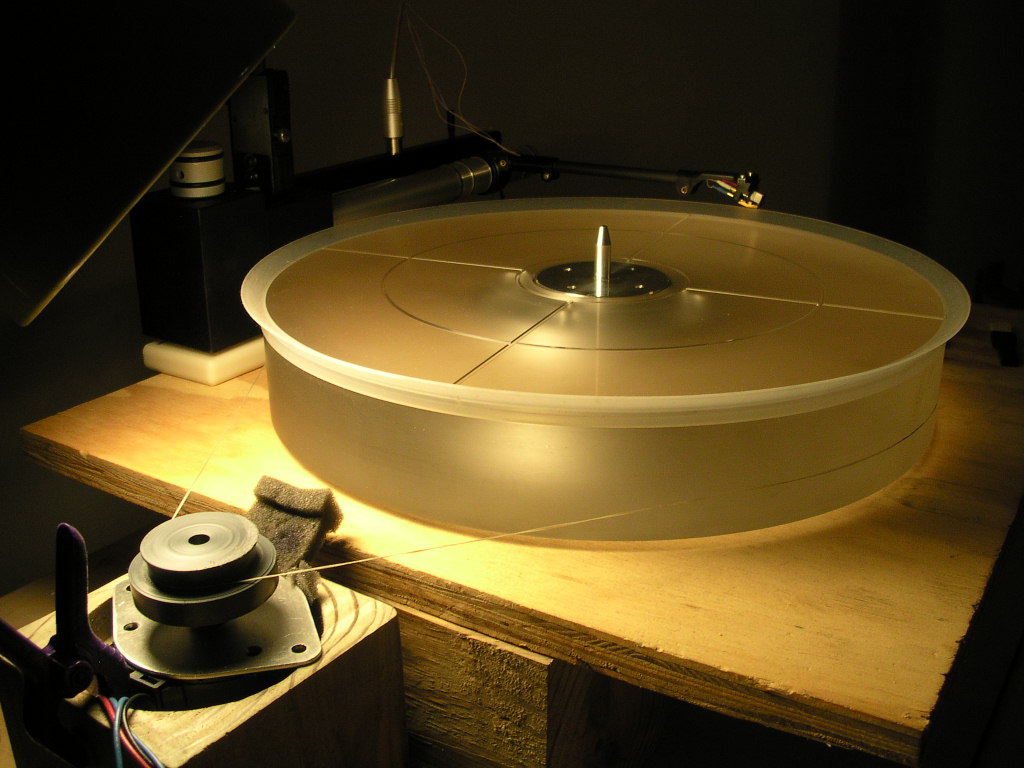 MG-3 Air Bearing With Vacuum Clamp Record Turntable

Base on many years of research and experience on constructing air bearing tonearms. Now we have a great success on this kind designed of turntable which named MG-3. We're so proud of this success on MG-3 air bearing with vacuum vinyl clamp turntable and would like to introduce this awesome result into the real word.

Price asking: $ ?.???.??

Features:

1. Low air pressure Non Friction Air bearing Design to ensure the highest quality on record play back.

2. Steady vacuum record clamp system provide the highest steady platform for record play back.

3. CNC lathed 1-57/64" (48mm) thick non-resonance solid Acrylic platter with a vacuum Silicon lip construction.

4. Low noise air(vacuum) pumps with a surge tank building project and 60' air PVC tube to ensure the constant and steady air flow.

5. Remote power control system plan for enhance the sounding quality and convenience when operating.

6. 1 year labor and 6 months parts free warranty.

ATTENTION:

The MG-1 Tonearm and cartridge shown in the photos ARE NOT include.

The limited warranty provided is on the turntable only. Physical damage to the turntable is not covered.

The MG-3 is a hi tech air-bearing Turntable, and should operated by personal familiar with this type of equipment to avoid irrevocable damage. Damage to any other device is not covered under the warranty.

NOTE 1: Warranty start since delivery day and it is non-transferable.

The specification and price may changed without notice.
Last Updated ( Tuesday, 26 April 2011 )